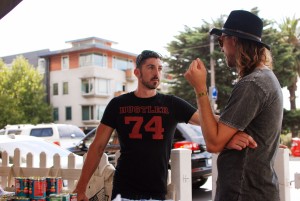 Founded in 2013, Pay a Sack Forward is an initiative to support the homeless and those in need within Australia. Currently operating across Brisbane and Melbourne, the charity was founded by Michael Stafford and Ryan Everett who oversee the running of the charity within their home cities.
In late 2013, whilst in Brisbane for work, Ryan happened to come across BAM Espresso, a community based not-for-profit espresso bar, run by Michael. Michael explained to Ryan his vision, which was to use the profits from coffee's sold at BAM to establish Pay a Sack Forward. It didn't take them long to realise they were on the same page and were both committed to assisting those experiencing homelessness within their community.
Calling St Kilda home, Ryan thought the area would be a great starting point in establishing the charity's presence in Melbourne. Walking between many of his favourite St Kilda cafes he was able to create awareness of the concept and gain support. Shortly after, Michael loaded his Toyota Echo full of supplies and drove down to Melbourne, a week later they both realised Pay a Sack Forward or PASF had the potential to be a success in Melbourne. Michael left his beloved Echo with Ryan and with that, PASF Melbourne was born.
Pay A Sack Forward has continued to grow in both Brisbane and Melbourne, and donation tubes can be seen in many cafes and small businesses throughout both cities. The increased awareness has resulted in a strong following from both individuals and organisations looking to support the initiative.
Michael and Ryan recently came up with the idea of communal packing days. These days provide an opportunity for people to get involved by assisting Michael and Ryan to pack a sack. These sacks contain essential supplies needed for those on the streets which are then delivered directly to the homeless by Michael and Ryan. See our donations page for what our sacks contain. Communal packing days are a great way of supporting the cafes and businesses that support PASF. They allow for like-minded people to meet each other and discover new venues within the PASF family.
[blockquote]We are really excited about continuing to grow, meeting our amazing supporters and helping make a real positive difference to as many lives as possible![/blockquote]
Thank you,
Michael and Ryan